---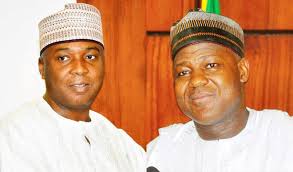 The Principal Officers of the National Assembly, Bukola Saraki – Senate President and Yakubu Dogara – Speaker, House of Representative, declared yesterday, that they were working on the same page on the amendment to the electoral act regarding the 2019 general elections' sequence.
Senator Saraki and Speaker Dogara, who were responding to a  report alleging that there was a disagreement between them over how the two chambers of the federal legislature will react to the withholding of assent by President Muhammadu Buhari on the Electoral Act Amendment Bill, said that they remained united on the issue.
Yusuph Olaniyonu and Turaki Hassan, Special Advisers on Media and Publicity to the Senate President and Speaker respectively, in a joint statement said, "The Senate President and the Speaker, as heads of the two chambers of the National Assembly and representing the views of their colleagues, will want everybody to know that they are on the same page on what is the appropriate reaction to the President's withholding of assent on the Electoral Act Amendment Bill"
"There is no disagreement between the two chambers as well as their presiding officers. The leadership of the two chambers constantly hold discussions and are in agreement on what to do, how to do it, when to do it and why it must be done.
"The issue at stake is not personal. It is about deepening democracy. It is about improving our democracy and the National Assembly is on firm constitutional and legal grounds to amend the law as well as make decisions in the manner they have been responding.
" We see that story and the insinuations contained in it as a mere distraction and unnecessary misrepresentation aimed at creating division in the Federal Legislature."
---
You may also like