---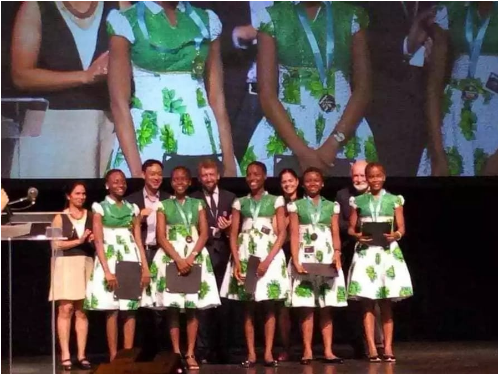 A team of five Nigerian students (Save– A-Soul) of Regina Pacis College, Onitsha, Anambra state, namely; Promise Nnalue, Jessica Osita, Nwabuaku Ossai, Adaeze Onuigbo and Vivian Okoye developed a mobile application FD-Detector (Fake Drug Detector) that identifies fake drugs. This qualified them to compete with countries like United State of America (U.S.A), Spain, Turkey, Uzbekistan and China in 2018 international global competition in Silicon Valley, California where they emerged as the winners receiving the gold price.
Who would have thought these Nigerian teenagers would stand a chance while they competed with countries at the fore-front of technology. According to the global competitiveness index (2017), the United States ranks as the 3rd most innovative economy, China in 28th place, Spain in 32nd position, Turkey in 55th place while Nigeria sits at the 125th place. Despite all odds plaguing this country; the limited resource, poor infrastructure, low reception to innovations, power instability, low technology level amongst others, they still came out tops.
The story we have here is one that we could apply to our lives. It shows that success is not far-fetched or for a special kind of people. If we want to achieve whatever goal we set before ourselves, we can, if we follow the principles of success. Having a vision coupled with consistency and a positive attitude is paramount to success. The principles of success is no respecter of persons, tribe, race, religion, ethnic group, skin colour or beliefs. It a principle if one follows accordingly would lead to results. It would work for anyone who cares to apply it in his/her affairs.
A positive attitude is not only a success principle but it can also help you to identify new possibilities, challenges, and passions. The way you think has a great impact on your life and the ability to become successful in life. A positive person discovers helpful knowledge and new chances where others see just problems and upcoming defeats.
A positive attitude is not only a success principle but it can also help you to identify new possibilities, challenges, and passions.
Let also be a source of encouragement to others. There are a lot of people with potentials around us helping them with advice and propping them in the right directions from our experiences would help a great deal in contributing to their success. Surrounding ourselves with successful people of great minds would contribute to building us and also help us to refine our thoughts the right way.
These secondary teenage girls are worth emulating as they already engaged in meaningful activities that will make life better for all. They plan to partner with the National Agency for Food and Drug Administration and Control (NAFDAC).
---
You may also like