---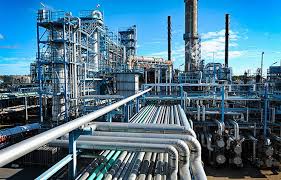 Muhammadu Buhari has been sworn in as Nigeria's president, promising to bring "increased prosperity" to Africa's most populous country.He is the first opposition figure to win a presidential election in Nigeria since independence in 1960. .
The Independent Petroleum Marketers Association of Nigeria is in talks with JP Morgan and KPMG with respect to its plans to build two refineries in Nigeria worth $3bn.
Earlier in 2014, IPMAN announced plans to construct two refineries in Kogi and Bayelsa states.
With the association currently split into factions, the factional President, Mr. Chinedu Okereke, told journalists in Abuja that the association was in talks with the world's leading financial institution and the renowned audit/advisory firm in a bid to get the two refineries built and running.
According to him, IPMAN recently met with officials of the Central Bank of Nigeria, informing the regulatory institution that it was set to bring in funds for the project and would need guidelines on how to go about it.
Okereke said, "When we came on board, we attracted some foreign investors and we all went to the government of Kogi State. We had a proposal for two refineries and we are still working on it. If not for the general elections, we would have gone far. The government of Kogi State gave us over 1,380 hectares of land for the refinery.
"We have done the perimeter survey of the land and the paperwork for the project is ongoing. As I speak with you, we are talking with JP Morgan and KPMG. Last week, we wrote to the CBN telling them that we want to bring in funds and they gave us the guidelines on how to go about it. About $3bn is needed for this project."
Also, Mr Patrick Ifeanyi Ubah, the Capital Oil boss, speaking with journalists at a separate event in Abuja, appealed to Nigerians to support the deregulation of the oil and gas sector, noting that this would boost the refining of oil in Nigeria as well as reduce the prices of petroleum products across the country.
Ubah said, "I urge President Buhari to take a bold step and deregulate the oil sector. He is not a stranger to the sector having been a former minister of petroleum. He will be respected if he takes the step because there is no point in paying subsidy when Nigerians are not benefiting from it.
"The President will be doing the right thing if he deregulates the sector so that the product will be sold at a cheaper rate in the future. I have always been of the view that we should deregulate so that we can cut out corruption, but unfortunately, Nigerians didn't take it from former President Goodluck Jonathan."
---
You may also like