---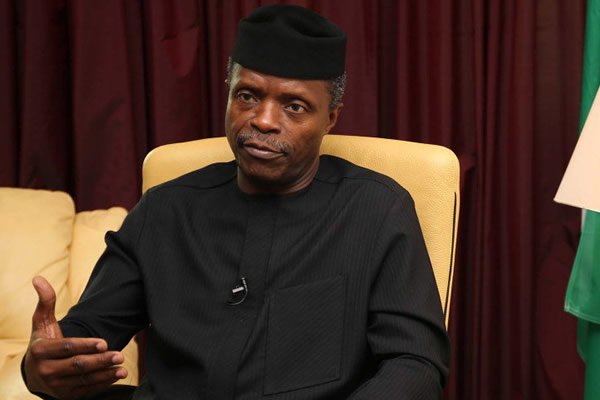 Vice-President Yemi Osinbajo says the issues confronting Nigeria are not tied in with restructuring as being recommended in numerous quarters.
As per an announcement on Monday by his Senior Special Assistant on Media and Publicity, Mr Laolu Akande, the VP said these while answering questions from Nigerians at a town lobby meeting in Minnesota, the United States of America, on Sunday.
Osinbajo said Nigeria's issues were not in regards to geographical restructuring but rather about the proper management of the nation's resources.
He stated, "The issue with our nation doesn't involve restructuring and we should not enable ourselves to be drawn into the contention that our issues come from some geographical restructuring. It is tied to managing resources properly and providing for the people appropriately, that is the thing that it is about.
"I served for a long time as Attorney General in Lagos State and one of the main issues that we battled for in Lagos State was what you call fiscal federalism. We felt that there was a need for the states to be more grounded, for states, to pretty much, decide their fortunes.
Osinbajo said his view was that the administration must make a domain that would enable individuals to understand their economic potential.
In June, Osinbajo had said that the present administration was not opposed to restructuring as being campaigned in numerous quarters.
Osinbajo stated this while addressing traditional rulers from Ekiti State at the palace of the Ewi of Ado-Ekiti, Oba Rufus Adejugbe, ahead of the governorship election in the state.
He had stated, "I need to state that this nation is strongest, this nation is best when we are one when we are united together. It is a united nation that can have any kind of effect.
"We are completely in support of any type of restructuring that benefits the general population of our nation.
"The inquiry that we should all ask is that what precisely happened to resources? The inquiry that I asked is that where is the infrastructure?
"One of the basic things that we should remember and see is that this administration, in spite of gaining $94bn, up until 2017, we are spending more on infrastructure and capital than any past government. Along these lines, we are spending N1.5trn on capital. That is the most noteworthy we have spent since 1990."
---
You may also like